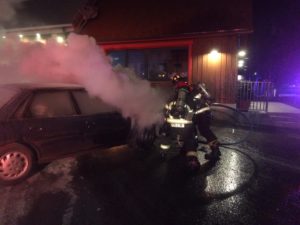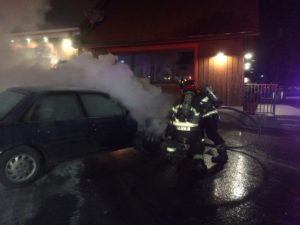 Eagle, Colorado
The Greater Eagle Fire Protection District was toned out to a motor vehicle fire Thursday evening around 7:15 PM at the Eagle Sinclair gas station, 131 E. Chambers Ave in Eagle, Colo. Engine 9, Tender 9, and Battalion 9 responded and arrived on scene minutes later and found a single vehicle with flames coming from the engine. The vehicle was initially parked next to the gas pumps when it caught fire. The owner of the car jumped in and moved it away from the gas pumps.
Eagle Police Department and bystanders discharged two fire extinguishers prior to our arrival but was not able to extinguish the fire. The gas station attendant acted quickly and disengaged the gas pumps. Eagle Fire crews arrived and made a quick attack on the engine fire, putting it out.
No injuries were reported from the driver or people on scene. No damage was sustained to the building or the gas pumps. The vehicle was a total loss and the fire cause is under investigation.
Agencies involved: Greater Eagle Fire Protection District, Eagle Police Department, and Eagle County Paramedic Service.
MEDIA CONTACT
Jacob Best
Lieutenant
Greater Eagle Fire Protection District
(jbest@gefpd.org)
(970.328.7244)