PRESS RELEASE
Eagle Fire crew send help to Kansas
3/7/2017 2:20 PM
Eagle, Colo.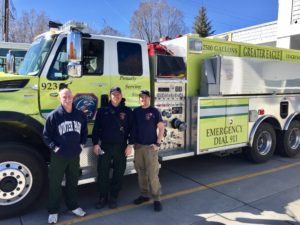 The Greater Eagle Fire Protection District is sending a crew of 3 firefighters and a tactical tender to the area of Dodge City, Kansas to help battle several fires in that area. A call for assistance came in from the Grand Junction Air Center, who is the managing agency for all wildland emergency resources on the western slope of Colorado. The original request for assistance came from the State of Kansas to available agencies in Colorado.
These urgent requests for assistance came after several grass fires blew up on Monday afternoon around the south part of Dodge City, Kansas. Wind gusts were reported around 50 MPH with low humidity. Local news are reporting several evacuation in place for businesses, homes, and ranches around the southern part of Dodge City. The Kansas Division of Emergency Management reported active fires in Clark, Cheyenne, Comanche, Ellsworth, Finney, Ford, Hodgeman, Lane, Meade, Ness, Pratt, Pottawatomie, Rawlins, Reno, Rice, Rooks, Russell, Seward, Shawnee, Smith and Stevens counties.
Our crew is expected to join a strike team in Dodge City with several other engines and water tenders from Colorado fire departments to help battle the fires.
MEDIA CONTACT:
Jacob Best
Lieutenant
Greater Eagle Fire Protection District